There are 2 kinds of salads in life: The carefully composed salads with a multitude of ingredients, including carefully cooked grains, hearty greens, roasted veggies, and hand-whisked vinaigrettes. These salads are incredible, and they can generally be made in bulk and used throughout the week. (You know how much I love this!) They lend themselves well to added proteins of many kinds. They are the workhorses of salads.
And then there are summer salads. These salads are wild; their beauty is bold but fleeting. They come together in moments and disappear just as quickly. These salads are formed at the farmers' markets and fruit stands. They combine the sweet and the salty, the brightness of fruits and herbs, the salt of cheeses and the tang of juices.
In my house we live on these summer salads from May through August. Whichever fruit is at peak freshness gets chopped up, and we add as we go. But by far, the one my husband requests the most is my Watermelon and Feta Salad. It's clean, it's crisp, it's salty and sweet. And it lends itself to endless variations. The most popular variation is with feta, mint, a dash of chili, and a squirt of lime. I wish I could give you a detailed recipe, but this salad comes from the heart, and you should follow yours. Below are my most frequent components—use this as a starting point and customize to make it your own.
A Very Loose Recipe for a Perfect Summer Salad
Watermelon & Feta Salad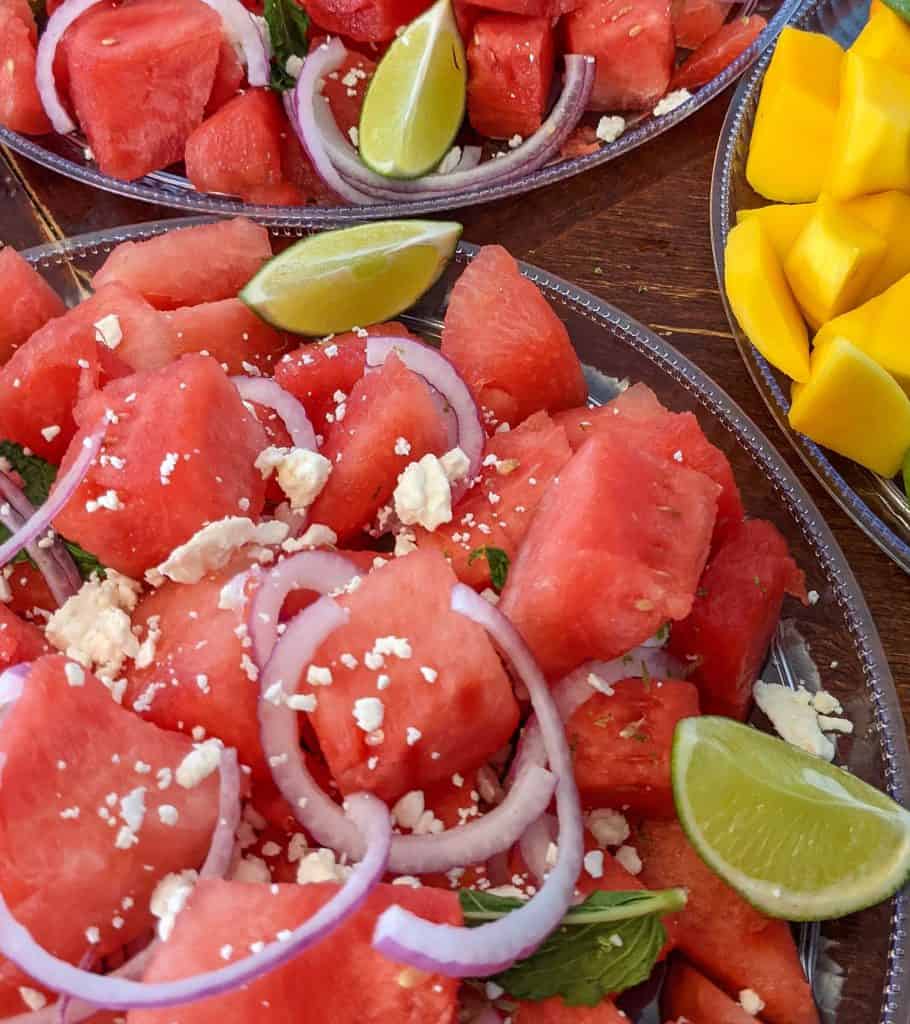 ingredients
Watermelon, at the peak of freshness, cut into manageable cubes
Feta, crumbled
Fresh mint leaves, roughly chopped
Red onion, halved and sliced into very thin half moons
Chili powder—use your favorite brand—just a sprinkle
1-2 limes, halved and squeezed over the salad at the very last minute
DIRECTIONS
Arrange the watermelon on a large platter, scatter the feta and onions on top. Toss on the feta, sprinkle the chili, and squeeze the limes. Makes for a very happy husband!